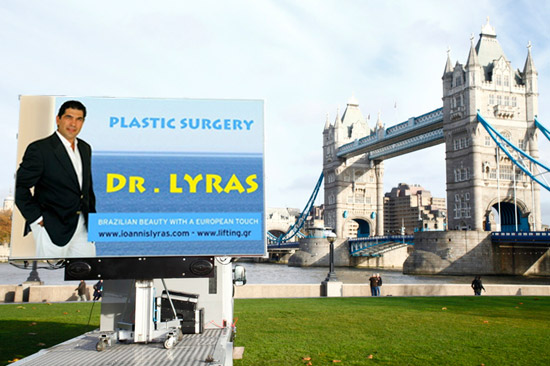 Greece – The Original Medical Tourism Destination..

Choosing a trip to Greece (Hellas > the country of beautiful Helen of Troy cited in the Iliad, the ancient Greek epic poem by Homer <) is a fantastic opportunity to enjoy some of the most beautiful scenery in the world and now with Greece's Medical Tourism industry growing at a rapid pace, it can now be a medically convenient holiday too! The Ancient Greeks have long been credited with starting what is now known as Medical Tourism. People traveled from far and wide to sample Greece's healing waters and Spa Treatments. Hippocrates (460BC), the father of western medicine, originally from the Greek island of Kos (or Cos) in the Aegean sea, practiced the art of healing for the first time in human history not as a priest but in a scientific way with remarkable results. People traveling from all over the ancient world were arriving at the first Asclepion of Hippocrates, to be hosted, treated and cured by him. Later, many more Asclepions were founded by him and his students all over Greece. Asclepion temples were small ancient clinics-sanctuaries combined with thermal spring water treatment areas, where diagnosis and treatment was taking place on a professional basis by ancient physicians. This practice marked the beginning of scientific medical tourism in modern history. Now, in modern European Greece with all areas of Medicine offered, you too can follow in ancient footsteps, combining a holiday in spectacular surroundings with a personalized Medical Treatment program of the highest quality!

Why Choose Greece for Travel and Treatment ?

Greece is a country with so much to offer visitors. Wonderful mountain landscapes, miles of stunning coastline, hundreds of beautiful islands and a rich cultural heritage make Greece a perfect vacation paradise. Add to this the fact that Greek Hospitals and Doctors are reaching out to Medical Tourists to offer high quality healthcare usually at a fraction of the cost of treatment in their home country, and Greece really could be the perfect destination for your Medical Journey. The Greek Island of Crete is currently the most well known destination for Medical Tourism in Greece due to its longstanding expatriate population. Many other Greek destinations are following suit and places such as Athens the Greek Capital, or Salonica & Chalkidiki in Makedonia and Alexandrupoli & Samothrace in Thrace among others, are fast becoming popular choices for Medical Tourists. As well as boasting amazing scenery and glorious beaches surrounded by high cliffs or palm tree forests, Greece also has a wealth of cultural experiences to offer visitors. Why not explore a traditional Greek market or while away the hours in a traditional Greek Taverna? Take a trip to see some wonderful Ancient Greek art or perhaps order a drink in a Greek cafeteria where the locals will easily spend one or two hours chatting over a cup of coffee. Greece really is a paradise for Medical Tourists, a breathtaking country with a great private healthcare system and committed and highly qualified top Medical Professionals. Not to mention the artistic heritage which constantly influences and inspires the country's registered specialists of plastic surgery.


Well, if Medical tourism is the traveling of people from various countries to (mostly archipelago) well known attractive touristic destinations for the purpose of obtaining medical treatment combined with nice vacation, then Greece is the original (2000 years BC) medical tourism destination and you are most welcome to enjoy it !!

_______________________________________________________________________________________

- Plastic Surgery in Greece (Hellas) is of the highest quality. Most Greek plastic surgeons are internationally certified and in close contact with their European, American and International colleagues, participating constantly in major world scientific congresses and events. Among the best plastic surgeons of the world today there are some Greek medical doctors. Ten thousant plastic surgery operations per year, are performed in 10 state and 10 major private and some smaller centers of plastic surgery in Greece (Hellas). Two thirds of them are performed in Athens alone. Some are performed in Salonic, (the capital of Macedonia). A small number is performed in Larissa, Crete and Rhodes. No catastrophic accidents or complications related to plastic surgeries have been reported in Greece..

Who is the best plastic surgeon today in Greece (Athens, Thessaloniki or other cities) ?? Well, be sure that you will find many "best" "top" and "safe" Greek plastic surgeons here in this part of Europe and the Eurozone..

- Comparative over all costs of surgery are lower in Greece than in other European, North and South American countries.

- Full nursing, transportation and touristic services are provided by the host.
- English, Russian, Chinese, German, French, Spanish and Portuguese speaking staff in charge

- Greece (Ellada) is located in equal distance between Europe, Asia and Africa. It is one of the most preferred, safe and pleasant touristic destinations offering a variety of vacation choices for the "global citizen". Aegean airlines,Olympic airways, Aeroflot, Cyprus, Ryanair, Lufthansa, British, Easyjet, Delta, Air France, Alitalia, Swiss, Turkish airlines, Thai, Sincapore, Quatar, Golf and Etihad airways will safely and comfortably connect you to Athens and other touristic destinations in Greece like cosmopolitan Myconos, picturesque Santorini, sunny Crete, green Corfu, medieval Rhodes, religious Patmos, mastic Chios, Lesbian Mytilene, Homeric Samos, astonishing Kastoria, olive Kalamata, the Byzantine Holly Mount Athos, medical Kos (the historic island of Hippokrates himelf) etc....

- Greece (Ellada) has a mild year round climate and "friendly" atmosphere.

- The city of Athens and the Hellenic countryside are filled with museums and archaeological sites, theaters cinemas and concert halls.

- Athens is a shoppers heaven, carrying all European and American designer's articles and products.

- The city of Athens successfully hosted of the 2004 summer Olympic Games.

- Dr Lyras' strong connection with the top Brazilian Plastic Surgery schools and Institutions (including the famous Ivo Pitanguy plastic surgery Institute in Rio de Janeirio) < for decades probably the best in the world> is a guarantee of the best modern and safe aesthetic and reconstructive plastic surgery services in Greece. Dr. Lyras is also the Honorary Consul of Brazil in Piraeus, Greece.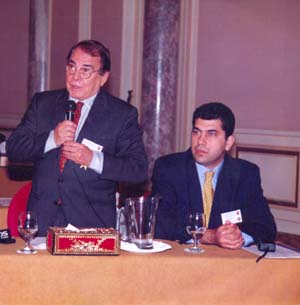 Internationally known and appreciated ,Brazilian Professor of Plastic Surgery
Dr. Ivo Pitanguy (left), with Greek Plastic Surgeon Dr. Ioannis (Yani) Lyras (right) lecturing together in the year 2000, and recalling times between Rio de Janeiro and Athens...