We all, here in Athens, Greece, would like to extend our Seasons Greetings to you and to your loved ones.
The present announcements are for Brazilians, Greek-Brazilians and Friends of Brazil from all over the world.
1
ASUNNTOS CONSULARES Pireaus and Thessaloniki are major ports of Greece, entry and departure points for many foreign and Greek nationals. The Federal Republic of Brazil has
Consulates
in these two port cities.
Dr Ioannis Lyras is the Honorary Consul of Brazil in Pireaus.
The address of the Consulate is:
in Pireaus, Greece.
tel. +30 6936 774 777
Fax. +30 210 7250 509
email : consul@beautyland.tv
Open on working days.
2
ENTREVISTAS - REPORTAJENS EM PORTUGUES
* Link
Europa
3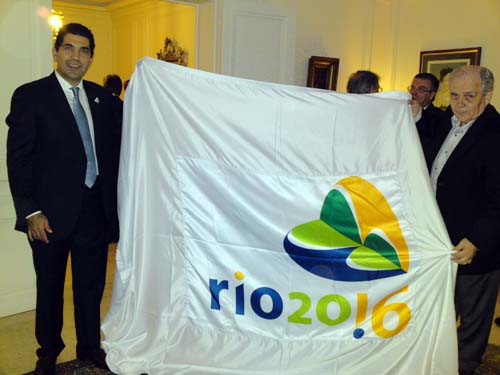 O Rio vai organizar os 31-os jogos Olimpicos e paraolimpicos de 2016.
Na foto o Sr. Ruy Cezar Miranda Reis
Secretário Especial da Secretaria da Copa de 2014 e Rio 2016 com a Bandeira da Olimpiada de 2016.